The beautiful ski trails of Gastriksland
Discover Jädraå's fantastic ski trails - for all skiers and with real natural snow!
great cross-country trails
Explore the forests and lakes of Jädraa on cross-country skis!
In Jädraås, the ski trails are a little better, a little more beautiful, a little more fun, a little easier to ski... well, you get it - we have really good skiing on real natural snow and Jädraås' two trail centers are only a short walk from STF Jädraås Herrgård. There is skiing for everyone, flat tracks in beautiful mixed forest or on a magical bog. Or slightly hilly trails in magical spruce and pine forests. You choose ... or by the way, you don't have to choose, you can ski all the trails over and over again, just book a few more nights and it's solved! 😉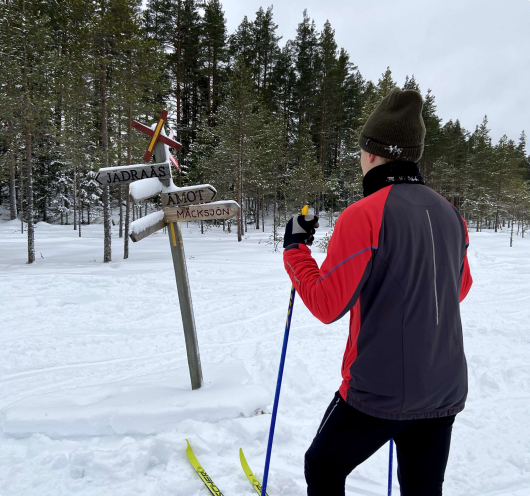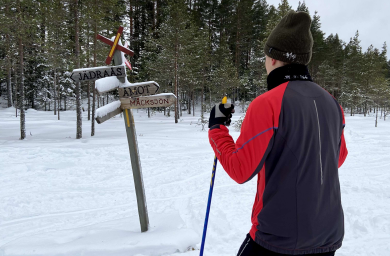 enjoy the beautiful trails of jädraås
Enjoy evening skiing in Jädraås - experience the trails with lights or by moonlight.
One of the trails has partial electric lighting, and on the other you can ski in the evening with a headlamp or follow the latest trend, skiing in just moonlight - it's a wonderful experience.

Jädraå's volunteers do a fantastic job of pulling and maintaining the trails in the village, and they are delighted that Jädraå's visitors and guests enjoy the beautiful trails. You have the opportunity to thank and support them by contributing to a voluntary trail fee.
Downhill skiing near Jädraås
Kungsberget - perfect downhill for ski enthusiasts near Jädraås!
If you like to go downhill instead of cross-country skiing - no problem, we have a fantastic ski resort just 10 minutes away! 😊 Kungsberget offers great alpine skiing and is only a short drive away. More information can be found at www.kungsberget.se

For our resident guests, there is a waxing booth and ski storage at the resort.
We offer targeted nature experiences of different types and levels of difficulty to a wide range of stakeholders.
Gammelboningsvägen 8,
Jädraås, Sweden, 81691