With Jädraås as a starting point, you can cycle on hundreds of kilometers of mountain bike trails.
Discover Gästrikland's natural cycling routes
With Jädraås as a starting point, you can cycle on hundreds of kilometers of mountain bike trails in the surrounding area.
As the initiator of the Biking Gästrikland project, we created Jädraås Bike Arena, which was inaugurated in June 2022, as well as transit routes between Jädraås and Kungsberget (further to Högbo), between Jädraås and Brattfors (further to Högbo or Ockelbo) and between Jädraås and Åmot (expected to be completed in 2023).
Jädraås Bike Arena starts at STF Jädraås Herrgård and offers eight well-signed MTB trails and two gravel trails (gravel road). The trails have varying lengths from about 3 km to about 30 km and meander between different types of terrain.
In collaboration with Högbo MTB Arena, we can also offer "Ante" - a really nice long-distance loop of just over 80 km and if you have had your fill of Jädraås loops, there are more to discover in the neighboring area of Järbo or in Åmot.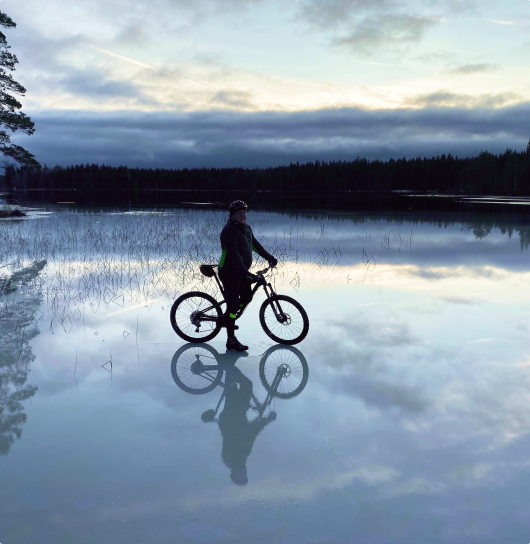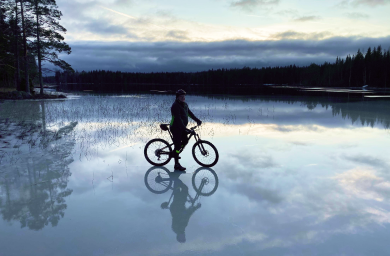 We are happy to have been mentioned as this summer's bubbler by Happy Ride.se.
Jädraås Bike Arena is one of 10 Swedish favorite places for mountain biking!
experience Gastrikland's cycle paths
A unique cycling experience on existing nature trails and paths
Jädraås Bike Arena is entirely built on existing natural paths and trails, ranging from animal trails and paths that people have walked for centuries to trails that have been used by snowmobiles during the winter since the 1970s. We have spent many hundreds of hours mapping these trails and paths and connecting them to really nice cycling with good flow.
We are satisfied only when they can be called "flowy" 😊 it is our internal highest rating and it is set on the basis that everyone who cycles with us should get a really wonderful feeling and a desire for more when riding at Jädraås Bike Arena. We are probably a bit "old school" when it comes to our loops, we want it to be genuine and on nature's terms, as MTB was from the beginning. Of course, it takes a lot more time to find and connect such loops compared to digging new loops, but we think it's worth it and if we listen to our visitors, we think we are right out! 😊
Read more
The idea behind the trails is also that everyone, both beginners and experienced cyclists, should get a good benefit from our trails. For beginners, we want the loops to give more taste and be relatively easy to cycle but with some challenges that allow you to grow as a cyclist on these loops. For those who have cycled a lot, we have baked in a little more technical parts, a little more altitude meters and some tricky parts that offer challenges even for skilled cyclists. On both our easy and our more challenging loops, significant parts of the route are so-called singletrack, which means narrow and lovely paths that offer an incredibly wonderful cycling feeling - you could call singletrack for MTB cycling's file pieces.

The trails go on magical pine heaths, along the wonderful Jädraån river, through deep large forests and sometimes through a beautiful village, we have tried to capture a good mix of everything to show how beautiful it is in the countryside around beautiful Jädraås.

We recommend cycling MTB or fatbike when you ride on Jädraås Bike Arena's forest loops.

If you prefer Gravelbike (gravel road loops), there are currently two scenic loops. You can cycle these loops with both MTB / Fatbike as a gravel bike or a regular bike.

We also have fantastic road cycling around Jädraås. We have some mapped loops that offer wonderfully hilly cycling on asphalt roads that are actually in good condition and have relatively low vehicle traffic. We are happy to help you with tips on really nice country road loops.

For our resident guests there is a bicycle wash, secure bicycle storage and the possibility of simpler bicycle service.
Bike hire, guiding and cycling courses
MTB and fatbike rental on site - experience cycling at Jädraås Bike Arena.
If you do not have your own bike, it is possible to rent. We have a good size range of MTBs and a number of fatbikes.

All MTBs have front damping and most of the bikes are just so-called front damping. In 2023 we hope to be able to bring in a number of fully damped rental bikes, ie with dampers both at the front and rear of the bike.

We often have high pressure on rental bikes so we recommend that you contact us well in advance of your stay and we will make sure there is a bike that suits you.

Our rental bikes are offered in collaboration with Henke Lingman and his company "Lingman Ute och Cyklar", and with Henke's own policy of "not renting out a bike that I myself would not want to ride", it guarantees nice bikes of well-known brands in good condition and with good components.
Read more
Via "Lingman Ute och Cyklar" we can also offer guided tours with a trained cycling guide. Here the guide puts together a potpourri of loop sections based on the type of cycling you want in terms of length, difficulty, altitude meters, etc.
If you want to develop yourself as a cyclist, we really recommend you to take a short course to develop your technique - we promise it's worth it. Our standard courses are listed below and although the elements are standardized, our technique coach always starts from the level you are currently at and the course is therefore completely adapted based on this.

- Introduction MTB - Step 1: Basic technique - "get to know the bike"
- Climbing MTB - Step 2: Basic technique for climbing
- Do-it-yourself bike service - Basic course in bike service

Both guiding and technique courses can be carried out in groups - contact us and we will discuss a good solution for you!
More information about the trails can be found at www.bikinggastrikland.se and in the app Naturkartan, and of course you are welcome to contact us directly if you have specific questions about any of the trails and we will help you to the best of our ability - after all, we are the ones who made all the trails 😉! You can reach us on 073-8061560 or kontakt@destinationjadraas.se
We offer targeted nature experiences of different types and levels of difficulty to a wide range of stakeholders.
Gammelboningsvägen 8,
Jädraås, Sweden, 81691