hiking trails in gästrikland
Hiking in one of Sweden's most forested landscapes - Gästrikland.
Enjoy the varied and historic nature around Jädraås by hiking.
The nature around Jädraås is wonderfully varied - it offers everything from easy hiking trails through magnificent pine heath to more challenging hiking in hilly, wild and beautiful nature. You walk through forests in different phases and of varying species, often in the vicinity of the Jädraån river and its breathtaking cliffs - the so-called jädrarna. There are also plenty of lakes and small ponds, mountains and marshes. There are also plenty of ancient monuments and cultural-historical remains that testify to the area's exciting history, which makes the hike even more rewarding.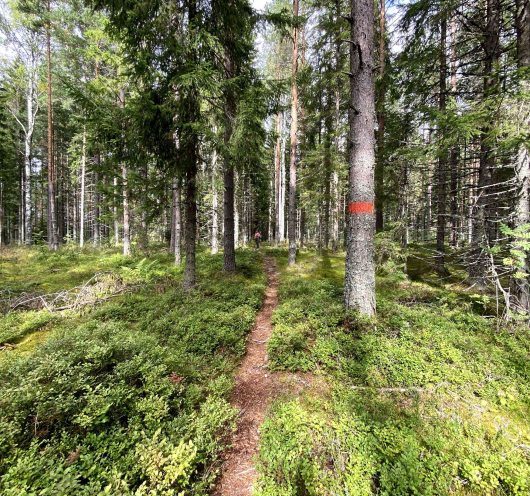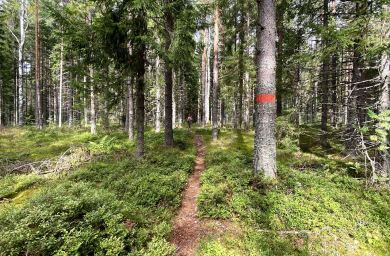 Experience the peace and beauty of nature by hiking in Jädraås - there are trails for all levels and interests!
You start your hike at the doorstep of our manor house. You choose whether you want to hike for an hour, half a day or even longer. We are happy to help you with tips depending on how long you want to be out or what type of terrain you prefer. Our local trails go along nature trails, paths and sometimes through a beautiful village.

In and around Jädraås, all trails and paths are accessible to both cyclists and hikers, as well as horse riders. By showing each other mutual respect and consideration, it has been shown that this works very well and the starting point is always that the cyclist should give way.

How do you do it in practice? Well, a basic tip is to make yourself known as early as possible, especially if you are approaching someone else from behind. To then seek eye contact and greet the person you meet is part of normal courtesy and if you want to get more out of the meeting, it is always nice to exchange a few words - who knows what you can get for good tips or good advice, and maybe it is so that you meet the person again back at STF Jädraås Herrgård.

In principle, all our loops are available in the free app "Naturkartan" and with the help of it you can always see exactly where you are somewhere. Most of the cycling loops are also clearly signposted with the start outside the manor.
Gästrikeleden - Experience a scenic hike in Gästrikland.
Gästrikeleden is about 27 miles long and new sections are added continuously. In Jädraås, the trail splits into three directions, south towards Kungsberget, north towards Åmot and northeast towards Rönnåsen (Ockelbo). The trail is very well marked with clear orange color on trees, poles and signs so that you can easily find.

We are currently working on establishing a Gästriketriangle that offers day hikes between Jädraås - Rönnåsen (Ockelbo) - Åmot - Jädraås. The goal is to inaugurate the Gästriketriangle during spring/summer 2023 and then we, in collaboration with local colleagues, will be able to help you book accommodation in each place.

Hiking in Gästrikland is a hidden gem - you will be pleasantly surprised and pleasantly surprised!
We offer targeted nature experiences of different types and levels of difficulty to a wide range of stakeholders.
Gammelboningsvägen 8,
Jädraås, Sweden, 81691